Worried about EMF Radiation? Cell Towers outside your window, WiFi, Computers, Cell Phones, TVs, these all emit Electro Magnetic Frequency radiation.
These Mosquito Nets are made from 100% Silver Fiber. It can block 80-90% of EMF Radiation while you sleep. Wake up feeling more energized from having a radiation free sleep.
For those who are sensitive to EMF radiation, these mosquito net canopies are a great way for you to relax while in your faraday cage. The silver fabric is also anti microbial!
"The current IARC evaluation from 2011 pointed to a possible link between RF radiation and cancer in people, particularly glioma, a malignant type of brain cancer."
See more here: https://www.healthline.com/health/emf#research
Check out our blog: http://peekconceptsblog.com/2021/07/14/testing-for-radiation-in-the-home-and-office/
Be sure to choose the size that is right for you!
The mosquito nets can be hung right from the ceiling.
For the larger canopy models, you can purchase the frames (not included) here: https://peekconcepts.com/item/stainless-steel-mosquito-net-frame/
75-Day Buyer Protection
Money back guarantee
***This is a dropship product. While we work hard to get our suppliers to ship to Hong Kong within the 3 days, we can't guarantee it. Please allow up to 7 business days for free delivery****
Specs:
Circular Anti-radiation Mosquito Nets

Anti-radiation, Antibacterial, Antistatic

Multiple sizes and shapes

ATTENTION: THIS PRODUCT IS COMPOSED OF EYELET FABRIC, SO CAN NOT BLOCK 100% OF THE SIGNALS, CAN ONLY BLOCK 80-90%.
Origination: China
75 Day Money Back Guarantee
Brief Introduction of Functions
Protect you and your family from high-frequency electromagnetic wave (EMF) radiation in the surrounding environment while sleeping at night!
Reduce the possible harm caused by electromagnetic radiation to infants, pregnant women, people with sleep disorders, thyroid diseases, low immunity, installation of pacemakers and other susceptible groups!
It can greatly reduce the radiation of mobile phone signals, communication base stations, wifi, cordless phones and other wireless devices.
The product has been tested for several years in developed countries such as Europe and America. Most users have stated that it has greatly improved their health after using it.
PROTECTION PRINCIPLE
The main principle of radiation-proof curtain is to make use of the reflection attenuation of electromagnetic waves on the surface of strong conductive medium to make the electromagnetic wave reflect off the curtain and keep the electromagnetic wave outside. When the aperture of the conductive dielectric network is less than 1/4 of the wavelength of electromagnetic wave (wavelength = speed of light/frequency), the electromagnetic wave can not pass through the conductive dielectric network.
PRODUCT PERFORMANCE
The radiation-proof mosquito nets, using the world's most advanced production technology and plating technology, is the world's top electromagnetic radiation protection fabric. Through SGS certification, it is completely harmless to human body! There have been many use cases, which have proved that the health has been greatly improved.
1. The shielding capacity of the mosquito net fabric reaches 25 dB at 1 GHz, that is, 99.7% of the electromagnetic wave can be blocked outside the mosquito net.
2. SGS certification is totally harmless to human body. It can also be used as clothing or infant cloth. There are no side effects on human body. The fabric is soft and has no difference between hand feel and common cloth.
3. Silver-plated copper fibers are completely coated with polyester fibers. Metals are not exposed to air and will not be oxidized. Electromagnetic radiation protection ability is long-term and effective, and can be washed. After washing, the electromagnetic radiation protection ability remains unchanged.
4. For radio and television transmission tower, medium wave transmission tower, all communication base stations (such as GSM base station, WCDMA base station, CDMA2000 base station, TD-SCDMA base station), repeater station, WiMax base station, WiFi base station, microwave relay and other wireless transmission equipment, electromagnetic radiation has good protection efficiency.
5. High transmittance, high permeability.
6. No earthing is required.
7.It can withstand direct sunshine without affecting its performance and service life.
Photo shooting in different light will cause a slight variations in color, which is not a quality problem.
Packaging Details: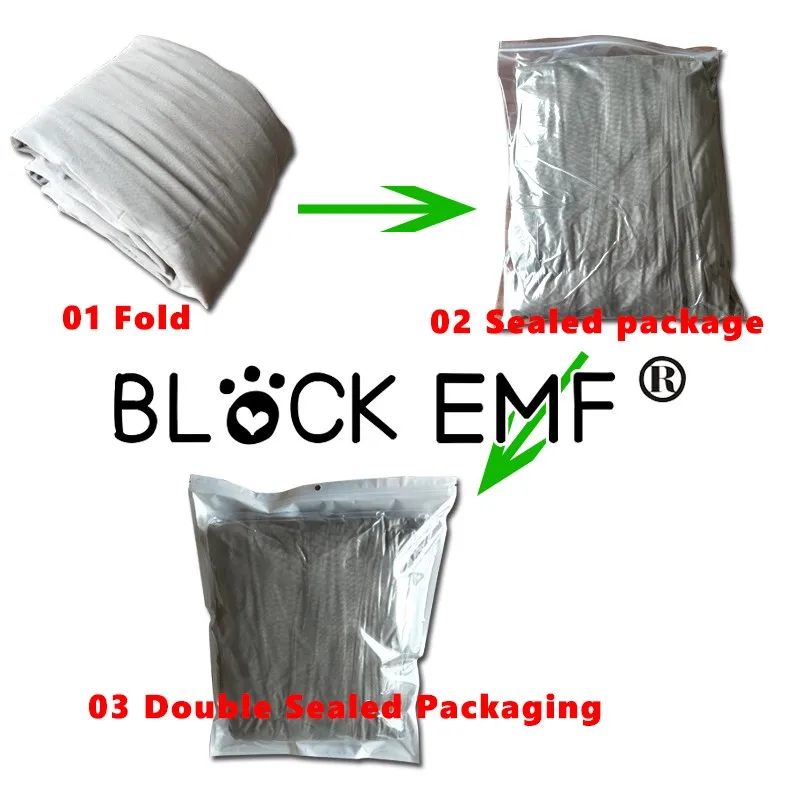 Square Mosquito Net
Baby mosquito net